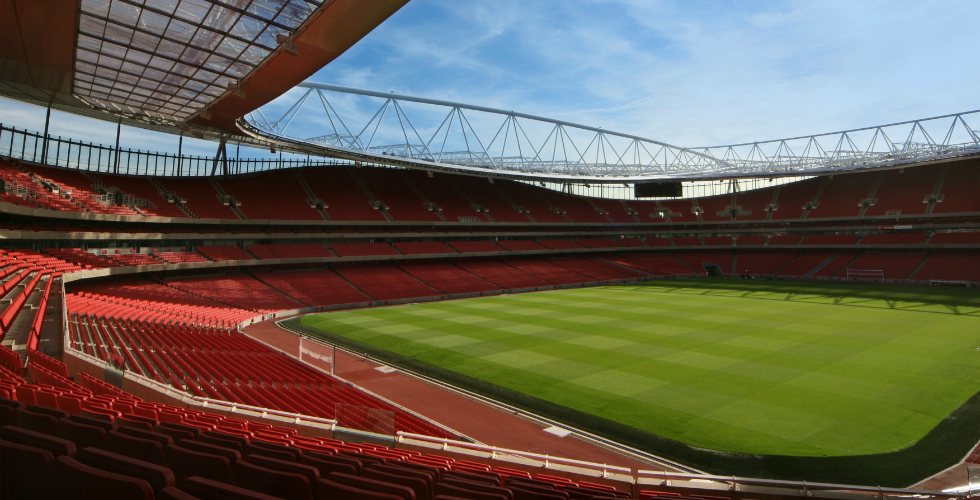 Premium seating areas at sports stadiums are proving to be a highly lucrative revenue generating operation. As stadiums continue to expand and evolve, so does the prevalence of luxury seating – this type of seating can be found in football clubs of all leagues as well as rugby clubs and other types of stadiums - catering for the premium sports spectator experience, as well as for other corporate events.
A premium seating area typically offers a balance between luxury seclusion, whilst still allowing fans to soak up the all-important atmosphere of the game – most clubs have understood that this is an integral part of the spectator experience. Spectators are provided with open stadium seats located in a designated area – seating is roomier and more comfortable with superior views (often situated in the mid field area) to watch the game from. Ticket holders have access to communal areas as well as the use of premium facilities which are usually out of bounds to standard ticket holders, including private enclosed areas, luxury dining in exclusive restaurants, bars, private bathrooms and additional extras such as designated parking, and complimentary snacks and drinks throughout the game. Private boxes are used by corporate clients for meetings and for entertaining – such spaces are often used on non-event days for important functions.
Premium Stadium Seating
An increasing percentage of premium seating is incorporated into any new or upgraded stadium design, due to a high demand and a positive return on investment. Premium seating areas typically provide a variety of quality seating options to accommodate those who wish to sit outside and watch the match, as well as having exclusive access to enclosed spaces such as pitch-side or court-side boxes with a range of amenities as well as the latest technology. The quality of the seating is key to the whole package. Luxury stadium seating is specifically designed to provide outstanding ergonomics and comfort, as well as a wide range of customisable options such as heated seat options, embroidery, cup holders and integrated technology, such as call buttons, charging ports and reserved seating signs.
Premium Dining Experience
Dining forms an integral part of the premium stadium package – an elevated food and refreshment service with a decadent variety and choice are key features. Although many clubs still offer traditional corporate spaces, there is a growing trend towards luxurious, yet more informal, open shared spaces. In terms of the standards of both catering and seating, the VIP premium experience has to compare to high end restaurants and other establishments in terms of quality and the level of comfort offered to patrons with exclusive memberships.
A Personalised Experience
Different clubs usually adapt their premium seating areas to cater to the needs of their fans and patrons, this may include additional options such as remote ordering services and integrated technology – for example, the ability to choose one of the cameras as your live feed, bringing fans closer to the action than ever before. Creating this type of environment ultimately makes the average fan aspire to experience that type of exclusivity first hand.
Boxes become the client's own space whilst in use, with the option to brand or decorate their own box as they wish, some stadiums may even provide a dedicated team, this may include a personal butler, designated account manager, the option to arrive several hours prior to kick-off and avoid the crowds, reserved parking, and some packages even go as far as to provide courtesy train fares (dependent on location).
The dining experience is bespoke with the choice of various food and drink packages to choose from, the stadium also offers priority access to other events for shows, as well as providing members exclusive invitations to meet famous sportspeople.
Ferco Seating Case Studies
Ferco Seating have installed premium and all ticket seating into iconic stadiums and arenas both in the UK and across the rest of the world.
Arsenal Football Club
Arsenal FC moved to the purpose-built three-tiered bowl Emirates Stadium in 2006 – the world famous stadium has a capacity of 60,260. Ferco Seating were tasked with supplying all general admission seats as well as VIP seating to corporate and director areas. Ferco Seating continue to work with Arsenal FC as they upgrade their VIP areas and executive boxes, with the installation of the Riviera VIP Stadium chair – Ferco also supplied all general admission seats.
The recent launch of Arsenal's Avenell Club further demonstrates the increasing trend towards investment in premium spaces – this Avenell Club offers panoramic views of the pitch, with supremely padded seats located directly outside the box. The club features an informal, self-contained, social lounge space, with a four course buffet, a live action chef station, self-service beer and soft drinks as well as various other drinks packages.
Twickenham RFU
Home to the largest dedicated Rugby Union Stadium in the world, the first game of Rugby was played in Twickenham RFU stadium in 1909. Twickenham has a capacity of 82,000 and is renowned for its incredible atmosphere. Ferco Seating were asked to provide seating for the Royal Box which was refurbished for the 2015 Rugby World Cup – the Riviera VIP seat was chosen for its outstanding comfort, executive and ergonomic design.
Chelsea Football Club
One of the most world's most famous football clubs, Chelsea FC was renovated in the 1990s and transformed into a modern stadium with a capacity of 41,631. It offers outstanding hospitality and seating to guests in its Box areas and in The Millennium suite – an ideal location for business functions and hospitality events as well as providing spectacular pitch views. Chelsea chose Ferco Seating to install the Riviera VIP seat to accommodate guests in the esteemed Millennium suite.
Liverpool Football Club
The 2016 redevelopment of Liverpool FC saw the transformation of this stadium into one of the largest all seater single stands in Europe, now accommodating an overall capacity of 54,000. The club offers a Premium Lounge Hospitality package, with various different packages available, providing outstanding pitch views, whilst allowing guests to soak up the vibrant atmosphere of the match. Ferco Seating installed the ARC One Stadium seat for general hospitality seating for the new main stand.
Further Case Studies
Premium Seating by Ferco
The Riviera
Designed with superior ergonomics and comfort in mind – The Riviera Deluxe Stadium Seat is a fully upholstered executive style chair which comes with a wide range of customisable features, such as heated seat options, logo embroidery, ProBax advanced seating technology. The seating is also extremely easy to maintain as well as offering outstanding durability.
The ARC VIP
A luxury chair designed specifically for areas of high end stadium seating – the ARC VIP stadium seat is a comfortable stadium seat with a high back, wide seat, padded side panels and solid wooden arm-rests. This chair is popular for use in corporate VIP and executive/directors areas, in a wide range of sporting venues.
The ARC MAX
The ARC Max VIP stadium seat offers a fully upholstered backrest, superior comfort and support – they are specifically engineered for ease maintenance. The seat offers various customisable options and can be floor or riser mounted.
Further Seating Ranges